Hans Hartel


office (at) blueidea.at

Mobil: 0043+664/300-65-94

von bis
Hans Hartel - Biografie eines Creativaholics

9 Jahre Lehrbeauftragter an der Wiener Musikhochschule, zahlreiche Vorträge im In- und Ausland in den Bereichen Audio und Grafik-Software, mehrere Jahre Betreiber einer privaten Tonstudio-Ausbildung, Schulungen und Seminare im Bereich Grafik-Software, Segellehrer in Wien und Kärnten (bis 1976)
mehrere Jahre Journalist und Auslandskorrespondent für österreichische und deutsche Magazine und Kulturzeitschriften
Software-Entwicklungen für Klangsynthese
Hardware-Entwicklungen im Bereich Soundsampling, Sequenzer, Audio-Surroundsysteme
über 500 Kompositionen/Texte, Filmmusiken, Werbejingles etc. davon rund 100 bei über 20 Plattenlabels erschienen
unzählige Liveauftritte als Singer/Songwriter, Gitarrist, Percussionist und DJ im In- und Ausland, mehrere TV-Auftritte
zahlreiche grafische Arbeiten als Fotograf mit diversen Dunkelkammer-Techniken, Entwicklung einer eigenen Objektkunst-Technik, grafische Auftragsproduktionen im Bereich der Musikindustrie
Erstellen und Betreuen von Homepages für zahlreiche Projekte
Betreiber einer Verlages, mehrere Jahre Betrieb zweier Tonstudios, Betreuung einer mobilen Discothek, Model-Agentur gemeinsam mit Sohn Dominik


und .......
"still crazy after all these years"


1954: geboren am 21. Juli, als einer der letzten Krebse vor den Löwen, Aszendent Wassermann

1964: Klavierunterricht, wegen Unverständnis bald abgebrochen, diatonische Mundharmonika im Selbststudium

1968 ?: erste sportliche Erfolge als Geräteturner und Faustballspieler

1969 ?: erste Gitarre, Freddy Quinn-Verehrung

1970 ?: ein Lagerfeuer mit "Sounds of Silence", erste Kompositionen und Texte, Auftritte in Pfarren und Clubs, Komposition einer rhythmischen Messe, Folksong-Abende vor kleinem Publikum, Teilnahme an der Staatsmeisterschaft im Geräteturnen, schwere Knieverletzung auf einem Trainingslager und Beendigung der sportlichen Laufbahn

1972 ff.: Matura mit Auszeichnung, Beginn des Studiums an der Technischen Universität Wien, Abteilung Industrielle Elektronik und Regelungstechnik, Jobs als Nikolo, Weihnachtsmann, Zeitschriftenkeiler, Verkäufer, technischer Zeichner, Zettelverteiler, Straßensänger, Mitglied bei zahlreichen Folk-, Country- und Liedermacher-Gruppen

Auftritt im legendären Folkclub "Atlantis


1975: Abbruch des Studiums an der TU, Lehrgang für Elektroakustische Musik an der Musikhochschule Wien

Bei einer Weihnachtskabarettaufführung in der Austro-Amerikanischen Gesellschaft in Wien


1976: Im Jänner erscheint im Rennbahn Express, Österreichs führender Jugendzeitschrift ein Artikel über mich als Liedermacher. Ausbildung zum Segellehrer mit anschließender Saison am Wörthersee, Teilnehmer des Folkfestivals am Gebhartsberg (Vorarlberg) mit Colin Wilkie, Bau eines 5-string-Banjos, Beginn des Studiums der Tontechnik an der Hochschule für Musik, Wien, lerne Lisbeth kennen, erster TV-Auftritt, erste Schallplattenveröffentlichung auf einem ORF-Sampler

auf dem 2. eigenen Segelboot, einem Zugvogel auf dem Neusiedlersee


1977: Filmusikkollagen zu Valie Exports "Unsichtbare Gegner", der Film geht um die Welt und läuft in Wiener Kinos rund 12 Wochen, erste Kommerzmusikerfahrung mit der Gruppe Cottage Five

ORF-Studioaufnahmen mit der Gruppe "Cottage-Five"


1977/78: Absolvieren des Präsenzdienstes

1978: Anstellung als angelernter Arbeiter im Institut für Elektroakustik, Komposition zahlreicher Film- und Theatermusiken, Einstieg bei der renommierten Tanzband Les Savoys

1979: Journalist für die Zeitschrift "streifen", Entwicklung eines analogen Sequenzers

1980: Ehe mit Lisbeth, Geburt der Tochter Birgit

1981: mit der Gruppe Les Savoys und der Eigenkomposition "Mediterranean Sunset": Platz 4 der Ö3-Hitparade, Gründung eines Tonstudios, Einstieg als Komponist in die Werbebranche

die Gruppe "Les Savoys" bei der Fotosession zur 3. Single "Troubleshooter" in einer U-Bahn-Röhre


1982: Entwicklung und Bau von Sampler-Modulen sowie einer 16-Spur-Tonbandmaschine, Programmierung von Klangsynthese für die ersten Sampler gemeinsam mit dem langjährigen Schlagzeuger DI Herbert Laufer

1983: Lehrauftrag für Live-Elektronik an der Musikhochschule Wien

1985: Gründung des eigenen Plattenlabels Cactus Records, Geburt von Sohn Dominik

1986: Gründung eines eigenen Musikverlages, Kinderkonzeptalbum "Himpelchen", erster TV-Auftritt unter dem Pseudonym Jonny Blue, Filmmusik für die Weightwatchers, Patent "Treppengeher für Rollstühle", Lied des Wiener Ferienspiels mit Kinderbuchautor Thomas Brezina

1987: Kinderliedershow mit TV-Tante Ingrid Riegler und Texten von Ehefrau Lisbeth (unter dem Pseudonym Lisa Donna-May)

1988: Acid-House Club-Hit mit Junkforce in Spanien und Deutschland, Ausstieg aus der Gruppe Les Savoys und Gründung der Gruppe Kids Can't Wait, erste kompositorische Deutschland-Kontakte mit Robert Jung, Bernd Simon (Simon Butterfly) und Rainer Pietsch (gemeinsames Lied für Jacky Cleever "The Legend" )

Kleinkunst-Programm "Haderlump" mit Bänkelliedern und frivolen Perlen der Literatur


1989: Beginn der Zusammenarbeit mit Chris White als sein Manager und Produzent, Gründung des Workshop-Studios mit eigenen Seminaren

1990: Konzept der Symbiophonie, entwickelt für's Institut für Elektroakustik, Gastvortrag und Aufführung des Werkes "Murmure éternel" beim Festival für elektroakustische Musik in Bourges (F), CD-Veröffentlichung, Aufführung im Wiener Musikvereinssaal

1991: TV-Auftritt mit Kids Can't Wait, Ende der Lehrtätigkeit

1992: Festival in Portoroz mit Chris White und Kids Can't Wait

1993: Österreich-Korrespondent der Münchner "MUSIKWoche", Beginn des Hausbaus, Produzent und Bandmusiker von Reggae-Mann Duncan Mlango, Kontakt zu Bernd Meinunger und erste gemeinsame Lieder

1994: Black & White-Reggae-Night (über 100 Disco-Auftritte bis Ende 96), Österreich-Korrespondent für das Saturn-Magazin, erste Chris White-Erfolge in Deutschland

Gründung der Reggae-Formation "Mlango/Ochoko"


1995: Kompositionen für Gaby Albrecht und Rex Gildo ("Sag, hast du heut' schon mal gelebt" landet bis Frühjahr 96 in zahlreichen Hitparaden und TV-Sendungen), Übersiedlung auf's Land, Beendigung der Journalistentätigkeit

1996: "Bonnie Blue", komponiert und getextet von Jonny Blue, wird mit Chris White ein richtiger Airplay-Hit, Jonny Blue landet bei der 1. Halbjahresbilanz unter den 25 erfolgreichsten Komponisten Deutschlands, 3. Platz bei der "Deutschen Schlagertrophäe 96" mit "Will dich"

1997: Ausbau des eigenen Tonstudios "Cactus Sound" und der eigenen Grafikabteilung "Cactus graphiX"

1998: Erste Ausstellung als Objektkünstler (pastöse Kunststoffe auf Vinyl-Restposten) unter dem Begriff "Flop-Art"

1999: Ordentliches Mitglied der AKM in der Kurie der Textautoren, Beginn der Arbeit am 1. Lexikon für Schlager und volkstümlichen Schlager aus Österreich

2000: Abermals Einstieg in die Pop-Szene, diesmal mit tanztauglichem Projekt Y2K. Ausbau der Comedy-Abteilung teilweise in Zusammenarbeit mit dem deutschen Schauspieler und Sänger Frank Schröder. Unter dem Pseudonym Schorschi Kuschelweich Auftritt in der NDR-TV-Hitparade "Bi uns tu Hus" als Indianer.

live im NDR-TV (ich bin – gut geschminkt – der Linke)


2001: erste Dancefloor-Erfolge mit TecTeam und PROFE$$A in Deutschland. Gründung des Live-Acts "DJ Jonny Blue & Bettina Hof". Wiederaufnahme der Lehrtätigkeit, diesmal im Bereich Graphik-Software für den Ausbildungsspezialisten AllTrain. Erstmalig Jurymitglied beim Österreichischen Pop-Amadeus

2002: Back to the Roots - Wiedereinstieg in die Folk- und Countryszene. Ausweiten der Seminartätigkeit auf Photoshop- und Illustrator-Kurse.

2003: nun auch regelmäßige InDesign-Schulungen für die Firma AllTrain.
1. Juli: Gründung der Modellagentur OnlineModels gemeinsam mit Sohn Dominik.
November: Registrieren der neuen Internetpräsenz BlueIdea, die als multimediales Gesamtkonzept die unterschiedlichsten Tätigkeitsbereiche der letzten Jahre auf einer gemeinsamen Plattform vereint.

2004: 1. März: Gewerbeberechtigung für Organisation von Veranstaltungen.
Seit Juni: Mitglied des Rechtssschutzbüros und der Disziplinarkommission der AKM.
Im Sommer: Ausweiten der Verlagsgewerbeberechtigung auf: Buch-, Kunst- und Musikalienverlag.
Erste Seminare nun auch in englischer Sprache.
Verstärkte Tätigkeit im Bereich der Software-Programmierung: Flash und Director für CD-Rom-Präsentationen.

2005: ab Jänner auch Macromedia-Freehand-Kurse.
Im Frühjahr: CD-Rom-Großprojekt "Dürnstein im Mittelalter" inkl. Musikproduktion über den Troubadour Blondel de Nesle. Veröffentlichung der ersten Chris White-DVD, auf der alle TV-Clips versammelt sind.

2006: Ausweiten der grafischen Tätigkeit. Erstellen von Foldern und Periodika, u.a. für das Schulamt der Erzdiözese Wien. Layout eines Schulbuchs.

2007: Viel Grafik und auch wieder mehr Musik als in den letzten Jahren. Die Jonny Blue Folk-Connection beginnt zu proben, der Kinder-Moderator Robert Steiner nimmt ein neues Album mit einigen Songs von uns auf, Ricky Mash - eine ungarische Discoqueen, die ich 1985 produziert hatte - erlebt eine über den ganzen Globus verstreute Renaissance, ich verkaufe Vinylsingles von Kanada bis Brasilien und von Estland bis Griechenland.
Koch Records Tirol entdeckt den Songschreiber Jonny Blue, die Ursprung Buam nehmen einen 20 Jahre alten Titel auf ihr neues Album auf.

2008: Heureka! Meine erste goldene Schallplatte! Das 2008er-Album der Ursprung-Buam enthält den Titel "Und dann hol i alle a" (den ich gemeinsam mit Lisbeth Mitte der 80er für das Ligister-Trio geschrieben hatte) und hat schon im Februar Goldstatus erreicht. Meine Folkband nimmt Formen an, erste Auftritte bei privaten Festen - der Bandname "Hi Folks!" entsteht.

Hi Folks!


2009: Hi Folks! sind bereits zu viert, spielen auf zahlreichen Veranstaltungen und drehen ein Video.

2010: Aus der Band Hi Folks wird nach einigen personellen Umbesetzungen Folk-X. Die Auftritte werden mehr, und die Lust am generellen Musikmachen wird wieder so groß, dass ich beginne, das jahrelang brachliegende Tonstudio wieder zu revitalisieren. Die Arbeiten am 8. Album mit Chris White nehmen ein halbes Jahr in Anspruch.

2011: Das Album ist fertig, die erste Single "Mitten im Leben" daraus läuft bereits erfolgreich in zahlreichen Radiostationen. Nun beginnt wieder die spannende Promotionarbeit parallel mit zahlreichen multimedialen Arbeiten ...
... bis mich Chris völlig unerwartet bei einem bereits zugesagten TV-Auftritt in Deutschland im Stich lässt ... ich bin am Boden zerstört und beendige nach 22 gemeinsamen Jahren die Zusammenarbeit.

Aber das Leben geht selbstverständlich weiter, ich konzentriere mich auf die stetig wachsende Live-Schiene und die Online-Shops.

2012: Eine selbstgesungene Cover-Version von "Ai se eu te pego (Nossa)" und eine mit Lisa Rabél produzierte Cover-Version von "Danza Kuduro" verkaufen online 1000fach und erzielen hunderttausende Streams.

Jonny Blue auf spanisch heißt nun mal "Juan Azul" (auch wenn der Song portugiesisch ist)


2013: Mit meinem jüngst erworbenen 4-string Banjo werde ich gerngesehener Gast auf zahlreichen Swingjazz-Sessions - ich gründe mein eigenes Ensemble "MeinaSöh".

2014: Ausgehend von meinen Live-Standbeinen "MeinaSöh" und "Folk-X" werde ich immer öfter zu diversen musikalischen Events eingeladen - in Summe über 50 Liveauftritte iun diesem Jahr. Gleichzeitig werden im Studio unzählige "historische" Tonbänder aus meiner Schaffensperiode von Mitte der 70er Jahre bis zum Beginn der CD-Ära Anfang der 90er liebevoll restauriert und digitalisiert und für Neuveröffentlichungen vorbereitet. Darunter fällt u.a. auch das Projekt "Jonny Schlager" als Interpret eigener aber auch internationaler Schlagererfolge.
Mit dem Song "I geh rodl'n" trete ich im Baden-TV (D) in Andys Musikparadies auf.

2015: Mit Jahreswechsel wurde ich eingeladen, mein grafisches Know-how an der Universität Wien in Form von Adobe-Seminaren (Photoshop, InDesign, Illustrator) an junge Wissbegierige weiterzugeben. Im April folgt der Ruf der neugegründeten Stadlpost ins Redakteursteam (dem ich mich bald wieder entziehe …).
Unter dem Pseudonym Yarumita bringe ich eine Serie von esoterischen Klavierstücken, großteils Eigenkompositionen heraus, die bisher (aktueller Stand 2018) rund 500.000 mal gestreamt wurden.

2016: Offiziell gehe ich ab August in Korridorpension. Die musikalischen Aktivitäten werden konsequent ausgebaut, ich spiele in mehreren Live-Bands (Folk, Country, Blues, Swing, Schlager) in Wien, werde als Leadsänger und Gitarrist in die Crossroad-Band eingeladen, spiele in Graz im Jess-Robin-Orchester.

Auftritt in Graz in den Kasematten (endlich wieder mal auf einer ganz großen Bühne)


Außerdem beginne ich an meinen Memoiren zu schreiben.

2017: Das große Jess-Robin-Konzert im August in Bánk (Ungarn) wird vorbereitet. Ich bin eingeladen, dort auch einige Solosongs zum besten zu geben. Deshalb arbeite ich das ganze Frühjahr mit Hochdruck an meinen ersten beiden "richtigen" Solo-CDs als Jonny Blue (engl. Pop-Songs) und Jonny Schlager (dt. Schlager) – komplett aus eigener Feder.
Im März kommt mir die Idee zu einem Erotikbuch, das ich kurzentschlossen gemeinsam mit einer Co-Autorin im Sommer vollende, es beginnt die Zeit der öffentlichen Lesungen.
"Die Banane schält sich nicht alleine". Zusätzlich zur "Banane" folgt noch das Projekt 4L (Lesung & Lieder von der Liebe und vom Leben).

2018: Auch die Flop.Art wird wieder aktiviert – schon im Jänner habe ich mein erstes öffentliches "Bildergespräch". Dann folgen auch noch einzelne Ausstellungstage. Die Lesungen nehmen ebenfalls immer mehr Raum ein. Gemeinsam mit Lis Levell, die Ende Sommer ihr Buch "Erste Reihe Achterbahn" auf den Markt bringt, startet eine Serie von Lesungen, bei denen ich die einzelnen Episoden durch passende Songs – teils aus eigener Feder – unterstreichen kann.

Lis Levell & Jonny Blue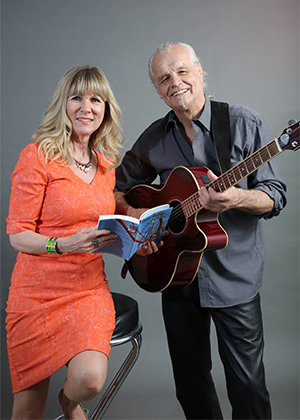 Mit Jess Robin geht es heuer wieder nach Bánk, sowie ins Orpheum (Graz), ins Schloss Körmend (Ungarn) und in die Therme Catez (Slowenien)

2019: Die Lesungen mit Lis werden zahlreicher und beginnen sich auch auf die Bundesländer auszudehnen ... Ab Herbst 23019 erscheint ihr erster Krimi "Mord auf Krankenkasse", und auch damit gehen die gemeinsamen Lesungen los, wobei ich da weniger Songs zum Bersten gebe, aber dafür mehrere Sprechrollen übernehme.
Immer öfter kann ich auch Bilder bei Lesungen oder Gigs vorführen.
Auch der Jonny Schlager ist nicht untätig. Mit "Buona notte, Madonna mia" erscheint eine dreisprachige Ballade, die auch bald in eine deutsche Schlagerhitparade einsteigt.
Mit Jess Robin folgen im Juli zwei Club-Gigs in Dublin, dann geht es wieder nach Körmend und zu Weihnachten in die Therme Catez.